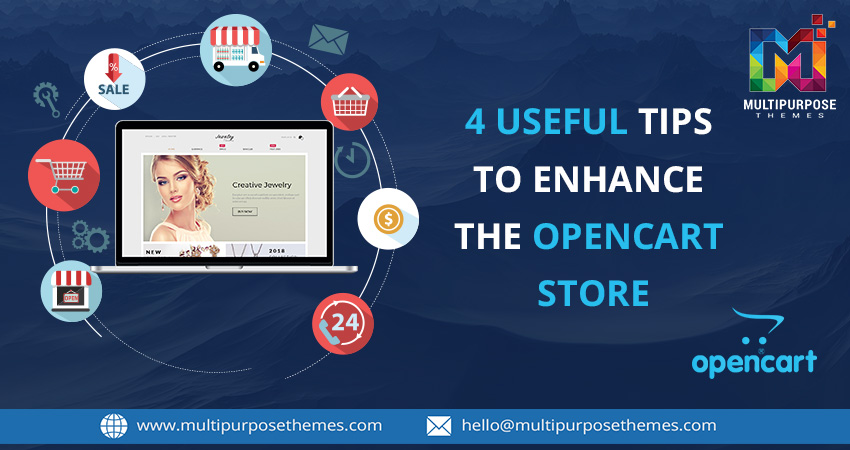 4 Useful Tips to Enhance the OpenCart Store
After you develop an online e-commerce store, you can market it and get sales to come in. However, you shouldn't just leave your efforts after you start getting sales. Instead, you are encouraged to think about improving the e-commerce store along with time. Then you will be able to take it to the next level and receive outstanding results in the long run.
The time that you invest to enhance the Responsive MultiStore OpenCart Theme and site can deliver a great help to you with delivering an outstanding user experience to all your customers. This can help you to develop the brand image and enhance your sales as well. You can make your online store look different from the stores of your competitors. This can even open up many new great opportunities to you. Here are four tips that you can use to enhance your OpenCart store and receive the best possible results out of it.
Show related products through cross-selling
Cross-selling is one of the most effective methods available for you to make your customers purchase more products from you. When a customer is buying a product, you can suggest other related products. For example, if a customer is purchasing a mobile phone, you can recommend mobile phone covers for it. Then they will be tempted to purchase those products as well. This can eventually help you to increase the amount of profit that you are generating per customer.
You need to make sure that you are suggesting photos of related products and make sure that you create the temptation to go ahead and purchase what you offer. Along with that, you need to pick one of the responsive E-Commerce OpenCart Themes, which support cross-selling. Then you will be able to get the most out of it and proceed with cross sales in a convenient manner. Cross-selling can deliver positive results to online stores in all niches. All you have to do is to get into the shoes of your customers and assume what they would be interested in purchasing. Then you can link the products accordingly.
Offer exciting shipping deals
You can also think about providing exciting shipping deals. Some of the Responsive OpenCart Theme options can help you to make the shipping deals look prominent. You can simply pick such a theme and persuade the customers to purchase what you offer with a shipping deal. If your customer feels that he is getting a good deal for the product, he will never think twice before spending extra money to purchase what you offer as well.
In today's world, people are doing comparisons of your website and the websites of your competitors before they purchase products. Hence, you need to provide the best deal and make that highlight through premium OpenCart Themes. Discounts on shipping deals, such as free returns, express delivery and free shipping can definitely help you to grab the attention of potential customers and stay ahead of your competition. Hence, you will be able to keep on making sales without having to worry too much on the competition.
Introduce psychological prices
Psychological prices are in a position to create a major impact on the number of sales that you can make. Hence, you are strongly encouraged to take a look at it and go forward with it. No matter if you are a small scale business or a large scale business, you can get the most out of it.
When you are introducing psychological prices, you should display items at $19.99 instead of $20. Customers will tend to see the smaller number first. As a result, they will tend to go ahead and purchase it. An OpenCart Multipurpose Theme will be able to provide helping hand to you with that.
Along with psychological prices, you can also think about offering exciting deals on the products that you sell. For example, you can think about selling Buy One Get One free on the products. Along with that, you can also tell that you are offering 20% more on what you offer. These offers would convince customers that they can get more for the amount that is being spent. Hence, you will find it as an easy task to make more sales at the end of the day. The Premium OpenCart Templates and themes will be playing a major role in here as well.
Provide limited time offers
After you start offering limited time offers through the online store, you will be able to see how the traffic is increasing. Along with that, you will be able to enhance the sales volume as well. Here are some of the limited time offers that you can take a look at.
Students get a 20% discount this weekend.

One day flash sale – Ends 9up tonight.

Free shipping on all the products before midnight.
You can highlight them through Premium OpenCart Templates and grab the attention of customers who come to your online store. Then you will be able to encourage the customers to purchase what you offer through ha sense of urgency. This can help you make more sales and boost your revenue at the end of the day.
Multipurpose Premium OpenCart themes are our most advanced, best selling and highest rated theme to date. Everything you would expect and more from one of the most popular OpenCart Template related websites out there!