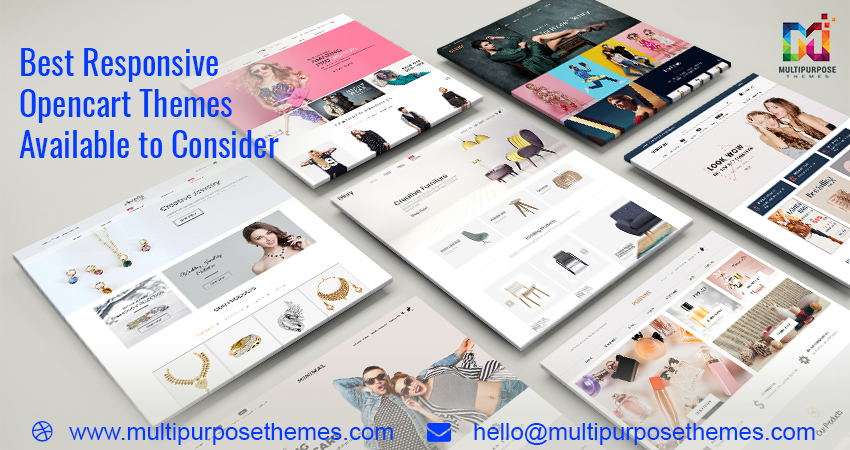 Best Responsive Opencart Themes available to consider
Are you looking forward to developing a new eCommerce website? Then you should take a look at Opencart. It is one of the most prominent frameworks used by people out there in the world for the development of responsive websites. You don't need to think twice before you get your hands on Opencart because of the functionality that it can offer to you. Pick the best Responsive Opencart Themes out of these and proceed with developing your online store.
While you are using Opencart, you need to make sure that you are using an Opencart Theme to get the desired functionality. That's where the responsive Opencart themes will be able to assist you with. Here are some of the most prominent options available for you to consider out of them. Any person who wishes to get hands-on a Responsive Opencart Theme can go ahead with one option out of these and move forward.
Minimal – Multipurpose Responsive Opencart Theme
If you are planning to develop an ecommerce store where you are going to sell jewelry, fashion or jewelry product, Minimal will be one of the best premium Opencart themes available for you to consider. You can consider this as a perfect example for a solid Opencart theme. Therefore, you will be able to accommodate all your demands or requests in a convenient manner. Minimal is ideal for both small scale and medium scale businesses as well. Even if you are a novice to website development, you will be able to get your hands-on Minimal and get the job done. In other words, no change that you have to do in this Opencart Multipurpose Theme is difficult to complete.
Perfume – Opencart Themes
Drug Store is an Opencart theme that offers the functionality as suggested by its name. However, you will not just be able to use this and develop online drug stores. People who use Drug Store can also go ahead and develop organic stores without any hassle. In general, you can think about using this as an excellent multi-purpose theme, which can support you with developing numerous e-commerce websites. It is a clean, modern and a robust tool available for you to consider. Hence, it can provide a quick and an effortless experience to you with developing an ecommerce store at the end of the day. This is a fully Responsive Opencart Theme as well. Hence, you will not have to spend any extra efforts to make the template responsive.
Glory – Opencart Responsive Theme
If you are searching for multi-concept and light Opencart templates and themes, you can take a look at Glory and move forward. You can easily develop multi-concept Opencart websites with the support that this theme can offer to you. Hence, Glory is currently being used by thousands of clients who come from many different industries. You can also call it as one of the most popular Premium OpenCart Themes available to consider as well. Another great feature that you can find in Glory is that it can be used to deliver a comfortable and a quick shopping experience. You can discover a one-page checkout system in this website as well. On the other hand, you will be provided with lots of capabilities to customize the pages that you are working with. The premium features that you can discover in this theme include video backgrounds, helpful content builder, and Ajax product filter.
Minimal Cart – Multipurpose OpenCart Theme
Minimal Cart is another great option available for the people who are searching for Premium Opencart Templates and themes. You will be able to develop any kind of an ecommerce website with the help of this theme. In this theme, you can discover a large number of pre-defined layouts and home pages. You have the freedom to go ahead and pick any out of them to use. Then you will be offered with the best possible experience at the end of the day. Level of responsiveness that you can get in this theme is top-notch. You will not have to worry about responsiveness at all while you are using it. The index pages offered to you by the theme are precise as well. Hence, you can develop a perfect looking ecommerce store with the help of this responsive Opencart theme.
Jewelry Responsive OpenCart Theme
If you want to develop an Jewelry store, Jewelry will be a great template available to use. In fact, this template is dedicated towards the Jewelry industry. You are provided with 9 different demos out of this template. You have the freedom to use them according to your preferences and get a fully functional eCommerce store developed. You are also provided with the chance to get a demo installed on your website with just a single click. Hence, you will fall in love with the functionality that this Opencart Responsive Theme can offer to you.
Minimal Fashion & Jewelry Store
Minimal Fashion & Jewelry Store can also be considered as one of the most popular Responsive Opencart Themes available for you to consider. If you are a person who has minimum technical exposure, you can use Minimal Fashion and proceed with the developments. Minimal comes along with a visual page builder. Therefore, you will be able to go ahead and develop the pages without having any coding knowledge or experience at all. The process that you follow to use Minimal and develop an eCommerce store will not be easy, but fun as well. You can also define custom layouts with ease. Hence, you will be able to improve the existing ones with ease. In Minimal, you can discover three ultimate home pages as well. It comes with a user-friendly dashboard as well. There is a mobile-only e-commerce page as well.