eCommerce Admin Dashboard – Master Bootstrap Admin Template
Master – eCommerce Responsive Admin Dashboard Template is a unique combination of Revenue, Orders and Visitors.
Master Admin Dashboard is Fully responsive admin dashboard template for Data, Reports, analytical & eCommerce concept and theory. The Dashboard shows how much your store sales were in the current month
It is a unique dashboard with features visits, monthly revenue and performance tracking. We have developed this admin template by unique and minimal look of the CRM's software. Bootstrap 4 latest with SASS. Master Admin Dashboard Template a clean way to use the design for your dashboard projects. This can be used for admin dashboard Applications for your online applications.
Master Admin Dashboard – Responsive Bootstrap 4 Admin Template Dashboard Web Application. The Admin HTML template can be used for online applications and softwares. Clean, Modern, New, Creative look for your application. This comes with SasS. A combination of Revenue, Orders, Visitors.
Notification and Sales Volume are creative new features.
You can track and analyze your job statistics from our HTML template plugins and widgets. Modern looking HTML Template on Bootstrap 4 latest platform.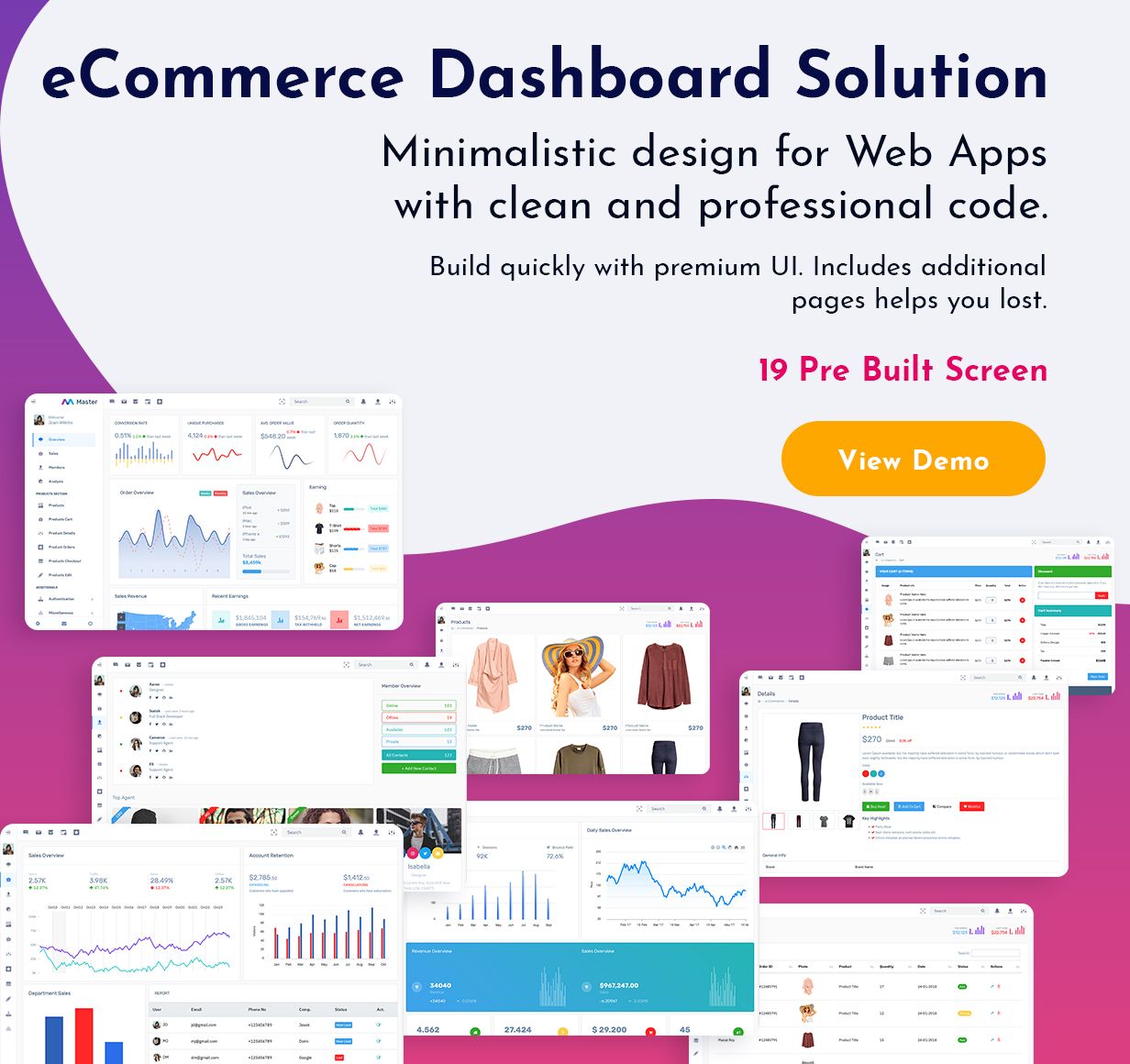 The eCommerce Responsive Admin Dashboard comes with 19 Pre-Built Screens.
Overview
The Overview Dashboard of Master Bootstrap Admin Template includes Conversion rate graph, unique purchases graph, avg. Order value graph, order quantity graph, order overview, sales overview, earning, sales revenue, recent earnings, and revenue growth.
Sales
The Sales Page of eCommerce Responsive Bootstrap Dashboard includes Sales overview graph (with stats of users, traffic, store, online), account retention, department sales, and report.
Members
The Members Page of eCommerce Responsive Admin Dashboard shows the list of all the Members with the member details.
Analysis
The Analytical Dashboard includes Company Analytics, Daily Sales Overview, Revenue Overview, Sales Overview, and more.
Products
The Products Page shows all the Products with image, name and price.
Products Cart
The Products Cart Page of eCommerce Dashboard includes Your Cart Section, Discount coupon section, Cart Summary, and more.
Product Details
The Product Detail Page provides details of each product like size, colors, images, description and more.
Orders
The Orders Page of Ecommerce Website Template gives Orders list with Customers Name, order Id, Photo, Product name, Quantity, Date, Payment Status, and Actions.
Products Checkout
The Products Checkout page gives the product summary with payment options.
Products Edit
The products edit page can help you change and edit the details about the given products.
Authentication
The Authentication Section of eCommerce Dashboard of Master Responsive Admin Dashboard Template comes with 4 Screens that are Login, Register, LockScreen and Recover password
Miscellaneous
The Miscellaneous Section of eCommerce Dashboard of Master Responsive Bootstrap 4 Admin comes with Error 404 and Error 500 pages.