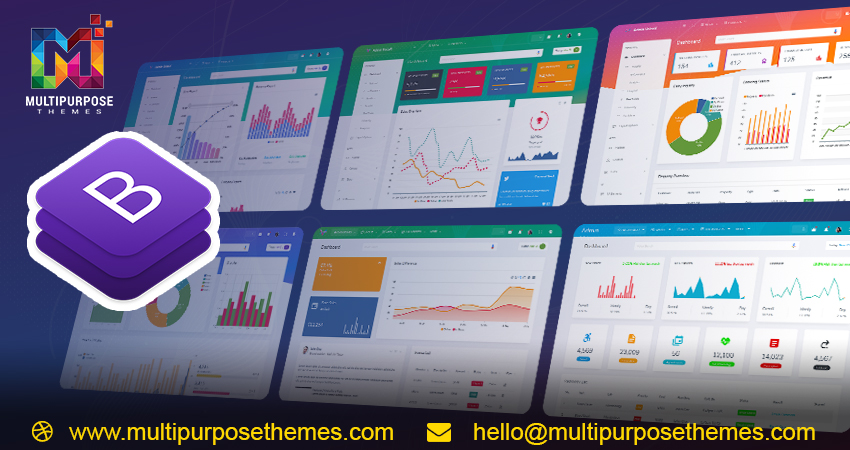 Getting to know about the best Bootstrap Front end Templates
As a developer, you are always looking for the best methods that are available to run the web applications in an efficient manner. That's where you prefer to take a look at frameworks such as Bootstrap. Bootstrap has been able to make the life easy for all the web developers out there through their comprehensive Admin Templates. You will be able to develop highly responsive websites as well as applications with the support that you are getting out of Bootstrap.
Along with Bootstrap, you will be able to create a variety of web pages. These web pages have been developed with HTML, CSS, and JavaScript. Your life will be made easy at the time of managing backend operations such as content management, data tracking, and website maintenance. In addition to that, you can also install and configure software with ease.
When you take a look back into the past, you will notice that the admin dashboard were not the best-designed ones. However, we are passing a stage where we can see perfectly designed Admin Dashboards. These admin dashboards are extremely easy to use. We will be able to use them for getting work done with ease. The level of responsiveness offered by them has increased as well.
You will now be able to discover many different Bootstrap Admin Templates, which are offered completely for free. However, you have the freedom to make payments to obtain premium services as well. Then you can go ahead and complete projects within a short period of time.
It has become important for all businesses to think about using admin dashboards. That's because they are in a position to provide business users with the ability to figure out the trends. In addition to that, business users will be able to view and manage multiple data with ease. They can also analyze and record the stats of the website or product. On the other hand, adding new functionalities to the website can be done with ease, while incorporating with the existing features.
How do Bootstrap admin templates work?
Before you get your hands on Bootstrap admin templates, it is important to have a basic understanding of the functionality that you can receive. The Bootstrap Admin Templates are nothing but HTML markups. They are used in order to support the administrative activities that should be completed while developing a website. You will be able to notice tables, widgets, pages, forms, UI components, applications and charts with Bootstrap. You don't need to go through the pain of creating interfaces from scratch. You can get into back end coding directly.
Why should you think about using Bootstrap admin templates?
Bootstrap has the ability to provide you with freedom and flexibility. On the other hand, Bootstrap is responsive by nature. You will be able to find in-built UI components, which you can further enhance with the help of plugins and add-ons.
Inside Bootstrap, you can discover readymade blocks of code. They are in a position to provide much-needed support and assistance to the developers who are working hard to complete large scale projects. At the time of using Bootstrap, you don't need to worry about browser compatibility at all as well.
As a developer working with Bootstrap, all you have to do is to pick a template and then move forward with adding the content that is needed. This will help you to save time, money and effort. Hence, you can eliminate some of the biggest problems that were associated with developing websites. You will even be able to end up with getting a better looking website developed at the end of the day.
Why should you go for premium Bootstrap templates?
When you are taking a look at Bootstrap Templates, you will notice that there are free templates as well as premium templates. Out of these two options, you need to go ahead with the premium templates as much as possible. Then you will be able to get better UIs, plugins and animations. The amount of money you spend to purchase Premium Admin Templates can deliver many benefits to you in the long run.
This doesn't mean that the free Bootstrap templates are useful. Depending on the research that you do, there is a possibility to come across excellent free Bootstrap templates as well. As an experienced web developer, you will be able to use them effectively and get the most out of them.
As a developer, the Bootstrap Admin Templates are worthy to consider and you will be able to secure better results with the help of them. Therefore, you need to take a look at the best admin templates available out there and go forward with the best ones out of them. Then you can add more value to your web development efforts.