Getting to know about the Premium Bootstrap Templates available out there with Calendar
When you take a look at the Bootstrap Templates available out there for you to use, you will figure out that they come along with a large number of UI elements. Page layouts, icons and other components hold a prominent place out of them. In addition to that, you will also be able to discover certain apps, including chat, contacts, calendar and mailbox. Out of these apps, calendar can be considered as one of the most important elements that should be present in Admin Templates.
With the help of calendar, you will be able to go ahead and provide alerts to the users with important dates. For example, if you are planning to release a new product on a specific date, you can easily spread news about it with the help of the calendar. You can also mark the date beforehand so that you will be able to create hype about the launch.
However, all the Bootstrap Admin Templates don't come along with the calendar functionality. That's where we thought of letting you know about the templates that can offer the calendar functionality to you.
 1. AIUI
AIUI is a Bootstrap template, which will provide you with all the elements that are needed to develop a powerful web application. This is a cross-browser compatible template. You can take effective control over many different aspects of this template as well. On the other hand, there are five excellently designed user pages to help you with.
       2. VoiceX
VoiceX is one of the most fascinating Bootstrap Admin Templates to use. That's because it will provide you with comprehensive access to all the components that are needed for the development of excellent web applications. You can get VoiceX in both dark and light color themes. It is a fully responsive web as well. Hence, running the web application on modern browsers will not be a difficult thing to do.
        3. Bankio Admin
Bankio Admin can be considered as one of the feature-rich Bootstrap templates available out there. You will be able to develop powerful web applications with the support that you are getting from Bankio. Bankio is fully mobile responsive. It comes with five different page layouts as well. A large number of dashboards are also offered by Bankio. In addition to that, you will find it as an easy task to work with the code of Bankio and get your specific development requirements catered.
         4. Azurex Admin
You can discover a unique and impressive design in the Azurex Premium Admin Template. Therefore, you are strongly encouraged to take a look at it as well. The beautiful color scheme has contributed a lot towards the aesthetic appeal offered by this template. You will be able to use this for a variety of web development projects based on the specific requirements that you have. One of the most impressive features of Azurex Admin is that it will provide you with a dark-colored Admin Dashboard. It has got separate e-commerce functionalities as well. You will be impressed with the GULP automation functionalities that are delivered by Azurex Admin. On the other hand, you can find multiple tables and charts on Azurex Admin, which can be used for data representation.
        5. CrmX Admin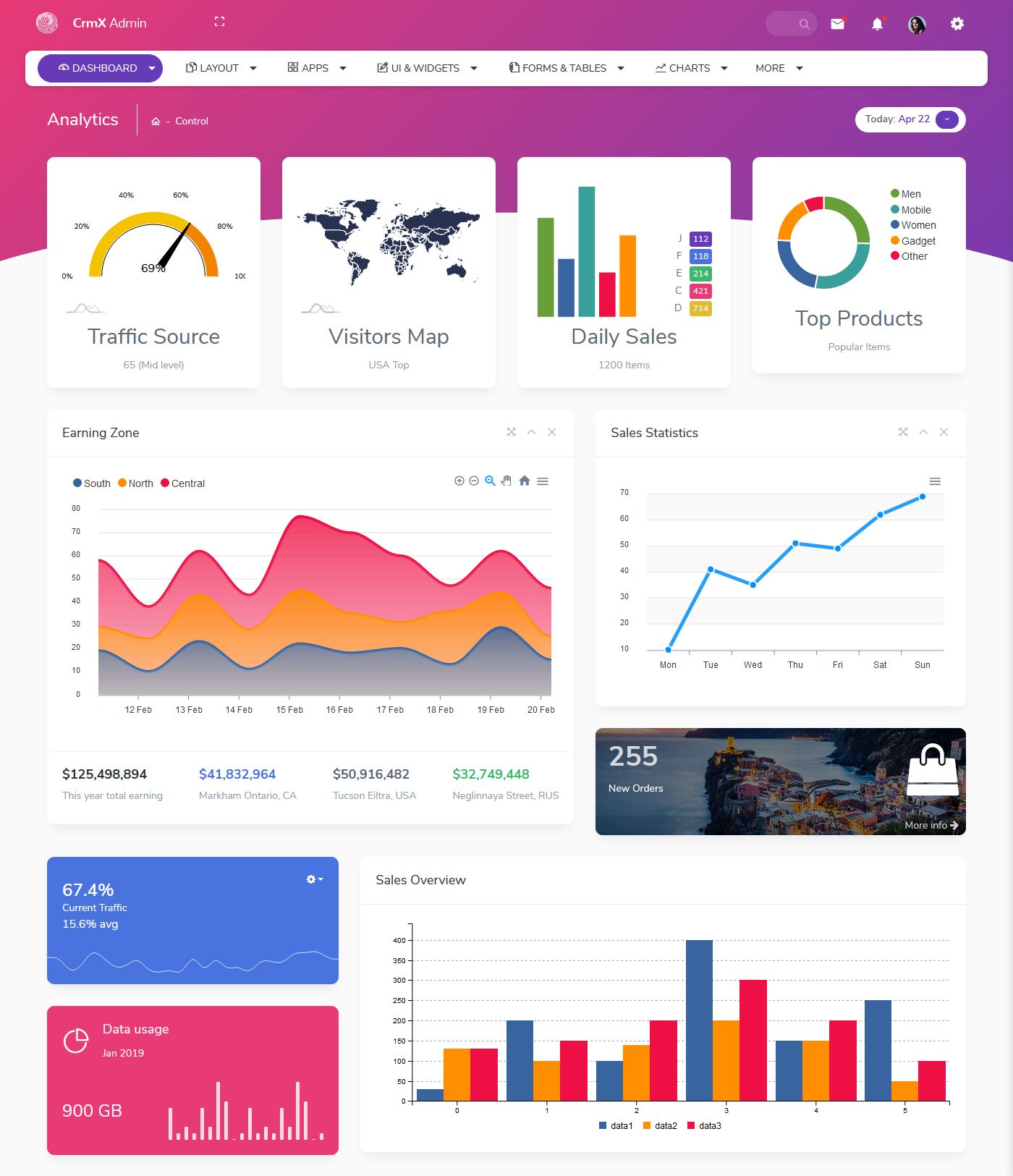 You can discover an exciting collection of UI elements within the CrmX Bootstrap template. This is a fully responsive template, which offers cross browser compatibility. You will be impressed by the unique color scheme offered by it as well. It has got four different well-designed layouts. In addition to that, three excellently designed ecommerce pages are available as well. Gallery, Calendar and email are some of the apps offered with CrmX.
       6. NeoX Admin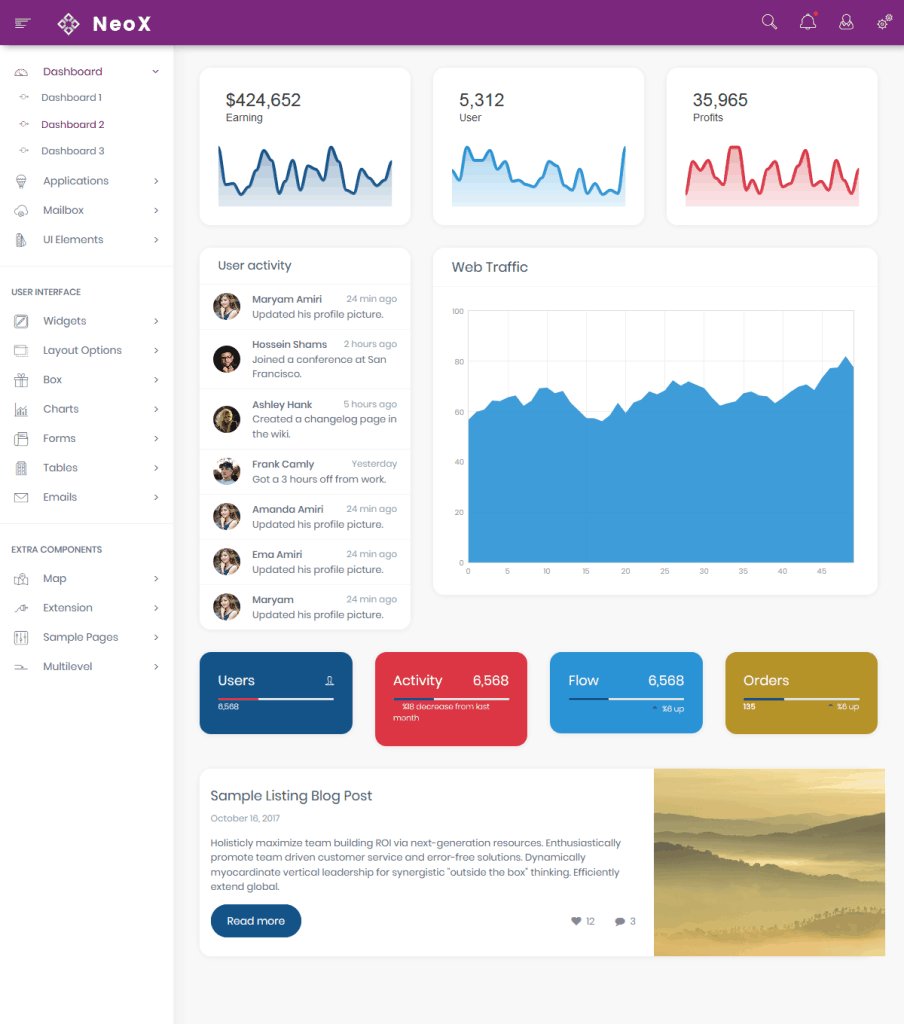 If you are searching for a Bootstrap Template that looks simple, but has got modern features, you can take a look at NeoX. Due to the same reason, you can think about using it as the base for the development of powerful web applications. You will be able to receive a superior level of flexibility with the help of this web application. On the other hand, you can fully customize this template according to your specific requirements as well. In order to help the developers, the Bootstrap template comes along with excellent documentation as well. The horizontal and vertical layouts offered by it are quite impressive. There are five different properly designed user pages in this template as well.
      7. Hyper Admin
Hyper Admin is another powerful Bootstrap template available to try. You will be able to get your hands on a large number of UI elements with the support of Hyper. It has got many different types of charts and tables for your convenience. On the other hand, you can discover a dedicated page for commerce as well. You can easily use this template for getting your work done. Customizations can also be done with ease. You can get Hyper template in a dark version as well as in a light version.
      8. Soft Pro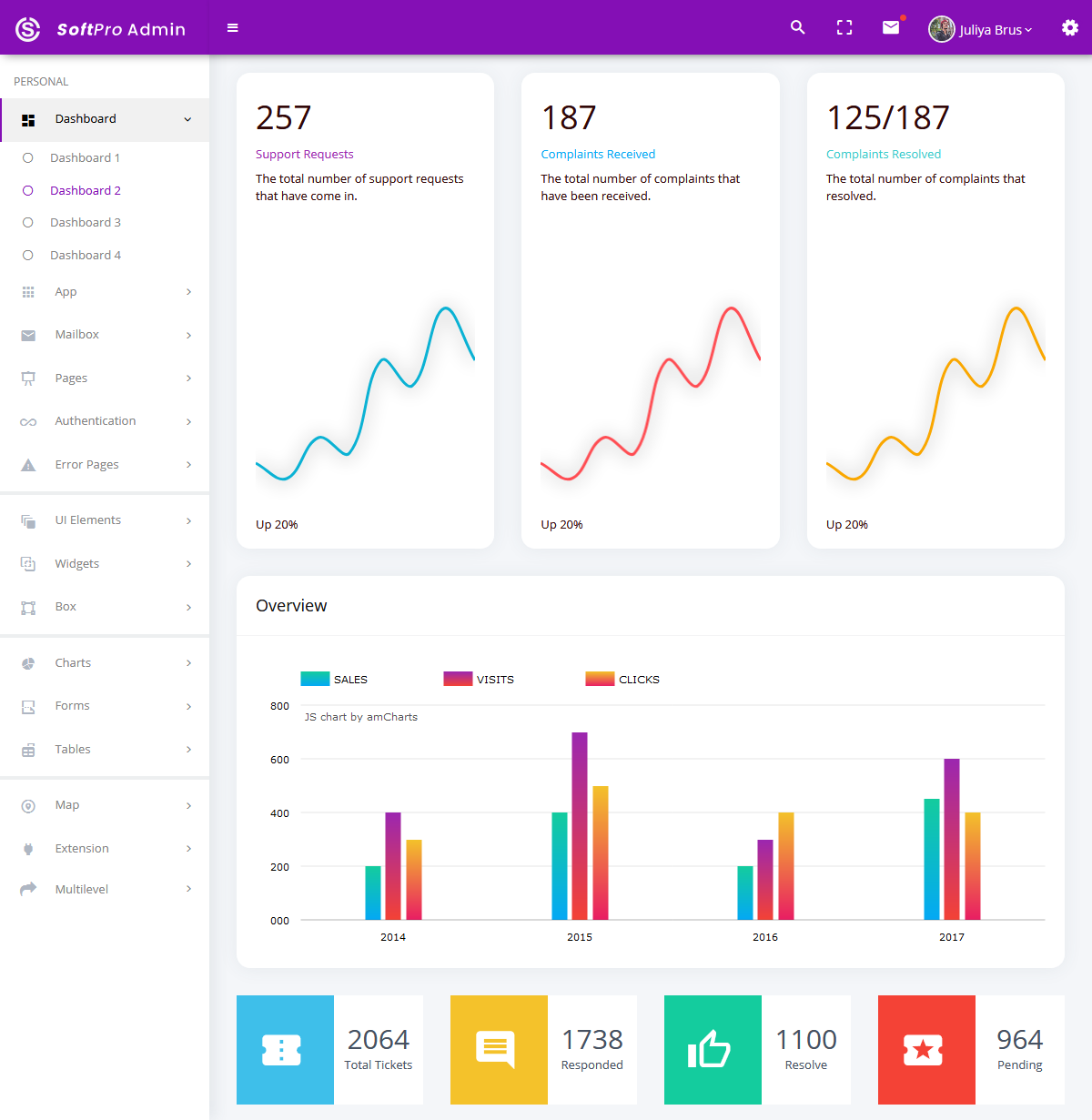 Soft Pro has earned a lot of reputation as a Bootstrap Admin Template because it has got a fascinating color scheme. Along with that, you can discover a minimalistic design in this admin template as well. You will notice that it has got a large number of reusable components. A large number of charts, tables, icons and form elements are available as well. Soft Pro is fully responsive and cross-browser compatible.
      9. UniquePro Admin
UniquePro is a premium bootstrap theme and a template available for you to consider. It will provide you with access to some essential components and elements. You can get a fully mobile responsive design with it. It has got multiple page layouts to make life easy for you. Due to the presence of detailed documentation, you will be able to get your work done with minimum frustration. All the components of this template are arranged neatly to make life easy for you.
Multipurpose Bootstrap Admin Dashboard is our most advanced, best selling and highest rated Templates to date. Everything you would expect and more from one of the most popular Dashboard Admin Template related websites out there! www.multipurposethemes.com.