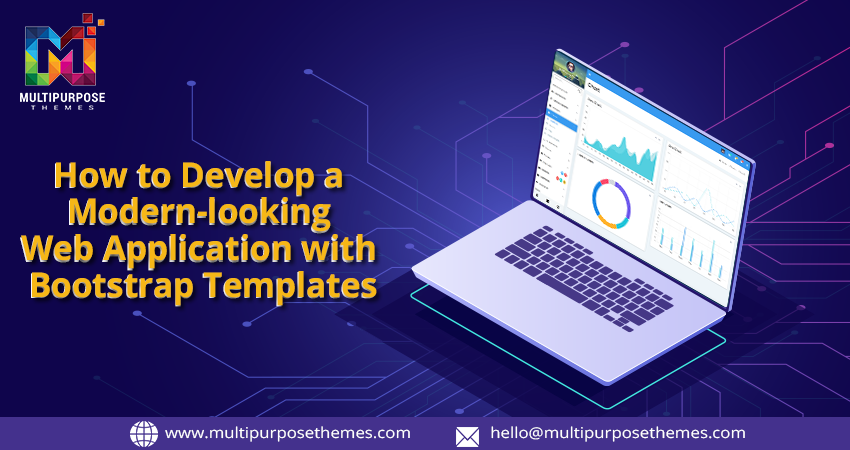 How to Develop a Modern looking Web Application with Bootstrap Templates
Are you looking forward to develop a modern looking web application? Then you don't need to worry about doing the developments from the scratch. You can take a look at the Bootstrap Templates, which can assist you to complete developments in an effective manner.
At the time of developing a web application, you need to pay special attention towards the mobile responsiveness of it. That's because people from different devices, including desktop and mobile devices would access it. Therefore, you should think about providing an excellent experience to all of them. That's where the Bootstrap Templates can assist you with. It is one of the most convenient options available for you to develop a responsive and a modern looking web application.
Choosing the Bootstrap admin template
In order to go ahead with your developments, you should first select the Bootstrap Admin Template. You are provided with a variety of options available to consider. You must carefully analyze the different options and pick the right Bootstrap admin template. Then you will be able to receive an excellent assistance in going forward with the development.
Why should you use Bootstrap?
On the other hand, you will love working with a framework such as Bootstrap as well. That's because it can deliver a variety of great features to you. You will be impressed by the functionality, reliability and features that are offered with Bootstrap. It is possible to develop a notable web app with ease using Bootstrap as a framework. The development process would be fast as well. This has contributed a lot towards the popularity of Bootstrap ever since its introduction back in the year 2011.
How to download and set up the files?
You are provided with multiple locations on the internet to locate the premium and free Bootstrap Admin Dashboard and get your hands on them. Out of those platforms, we would recommend you to take a look at WrapPixel. You can go through the available options and come to a conclusion whether you are going forward with a free template or you are going to purchase a template.
Upon picking the template, you should download and unzip it. Then you will be able to navigate to the check HTML files in the browser, so that you can test all the pages. Upon completion of the test, you will be able to pick the individual pages and start working on the edits that you want. It can help you to create stunning dashboards and you will get impressed with it.
If you are using Bootstrap for the very first time, you are encouraged to take a look at the documentation that comes along with the template. This can help you to get a better understanding on how the Bootstrap Premium Admin Template works and how you will be able to customize it according to your requirements. This will be a comprehensive documentation as well.
You are encouraged to begin the customizations with dashboard. Then you can move to the other areas of the Bootstrap Template. Then you can work on the database connection and implement the backend technology as desired. Since Bootstrap is based upon HTML, you will need to have a solid understanding on HTML to get the job done.
Conclusion
Now you have a basic overall understanding about Bootstrap and how it works. You are encouraged to go through these steps and develop stunning web applications. It is one of the best frameworks available for the development of web applications and you will fall in love with the results that you will get at the end of the day.
MultiPurpose Admin Templates is our most advanced, best selling and highest rated Templates to date. Everything you would expect and more from one of the most popular Dashboard Admin Template related websites out there! www.multipurposethemes.com.