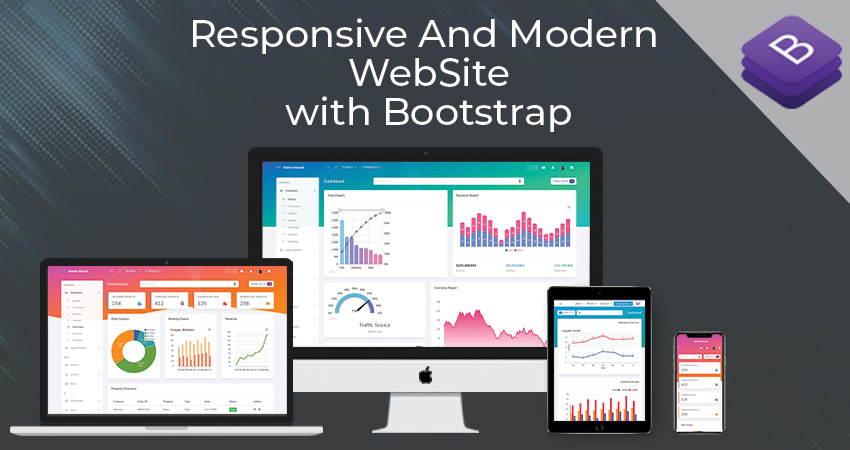 Using Bootstrap for the Development of A Responsive and Modern Site
These days, if you want to have a website that is appreciated and successful, you need to make it look modern, be highly functional, and responsive at the same time. Responsiveness is a must considering the increasing number of people that use mobile devices to access information online. So, before you even start working on your website, you need to have this aspect in mind. A responsive website design won't be appreciated just by mobile users, but also by search engines, which consider this important criterion when ranking a website. Luckily, with Bootstrap Admin Template, you can do them both. You can come up with an engaging and pleasant design and make the site responsive as well.
To make sure everything will come out as desired, there are a few steps to follow when looking to create your website with Bootstrap.
Download the needed files and set them up
How to get started with Bootstrap? There is a "get started" section you can access in order to begin the process of designing your website. The best part about using Bootstrap is that you can select the desired difficulty level, based on your current skills. So, at the "get started" page, you will notice 3 different options. Choose the one that is suitable for your skills. The Bootstrap Admin Dashboard free download is the version most recommended for beginners. This version is easier from all points of view, including CSS and JavaScript.
Opt to have twitter bootstrap
If you are familiar to Bootstrap or got familiar with it meanwhile, performing a custom installation is best. This will reduce the number of files you need to download and set up and obtain the desired result with ease. There is a "compile and go" button that will allow you to get started in this case. With the twitter bootstrap integrated, creating beautiful designs for your future website will not be an issue.
LESS will help you out
You probably heard about CSS. But have you heard about LESS? Well, LESS is similar to CSS, although it is capable of making the development process run smoother and faster. So, unrolling other tasks meanwhile will be possible. Also, you can compile LESS into CSS later on, if this is what you consider most suitable. With Bootstrap, versatility is highly available.
Take care of the homepage
The homepage is very important for a website. It is not just a welcoming page, but also the page that should convince people to subscribe or spend more time on the website. So, make sure to make it both attractive and useful as well. In other words, besides using proper design, you should also provide concluding and clear evidence of what you have to offer on the website. Present all your services in a succinct and easy-to-understand manner. Also, this page should be made to be responsive, just like the rest of your website, as it is the first page with which visitors come into contact. So, it is important to make a good first impression.
Putting together the Bootstrap grid
The grid provided by Bootstrap is extremely helpful and will allow you to organize the website well. There are several options available so that you can come up with the grid that will work best in your case. You just need to find the recipe that will work best in your case.
MultiPurpose Admin Templates is our most advanced, best selling and highest rated Templates to date. Everything you would expect and more from one of the most popular Dashboard Admin Template related websites out there! www.multipurposethemes.com.